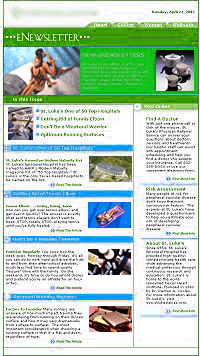 Many companies want to send electronic newsletters to their clients to keep them informed on new product launches, up selling and providing a value added service that incorporates the company's message and provides additional helpful information to their clients on a monthly or quarterly basis.

SBR builds eNewsLetters for our clients as well as provide articles of interest to our client's customers. SBR begins by sitting down with the client and determining what style of eNewsLetter the client has in mind. We then create the template using any style guidelines specified by the client.

When the draft template mockup is completed, it is reviewed with the client to get feedback and discuss appropriate changes. This may take a number of revisions to insure that the client's satisfaction is met.

SBR will work with the client to determine whether the client wishes to create a monthly or quarterly eNewsLetter as well as developing the message and content for the eNewsLetters. SBR, at the client's request can provide a turnkey package for release to the client's double opt in email list.

Generally, our clients have us build the basic eNewsletter, placing the clients articles in the appropriate locations as well as any SBR small business articles the client wishes to use. All of the content introduced in the eNewsLetter can be housed on SBR's server for access by the viewer or streamed into the client's webpage for viewing by the customer.


If you are interested in more information or having an SBR representative speak with you further about eNewLetters for your company, click contact us.